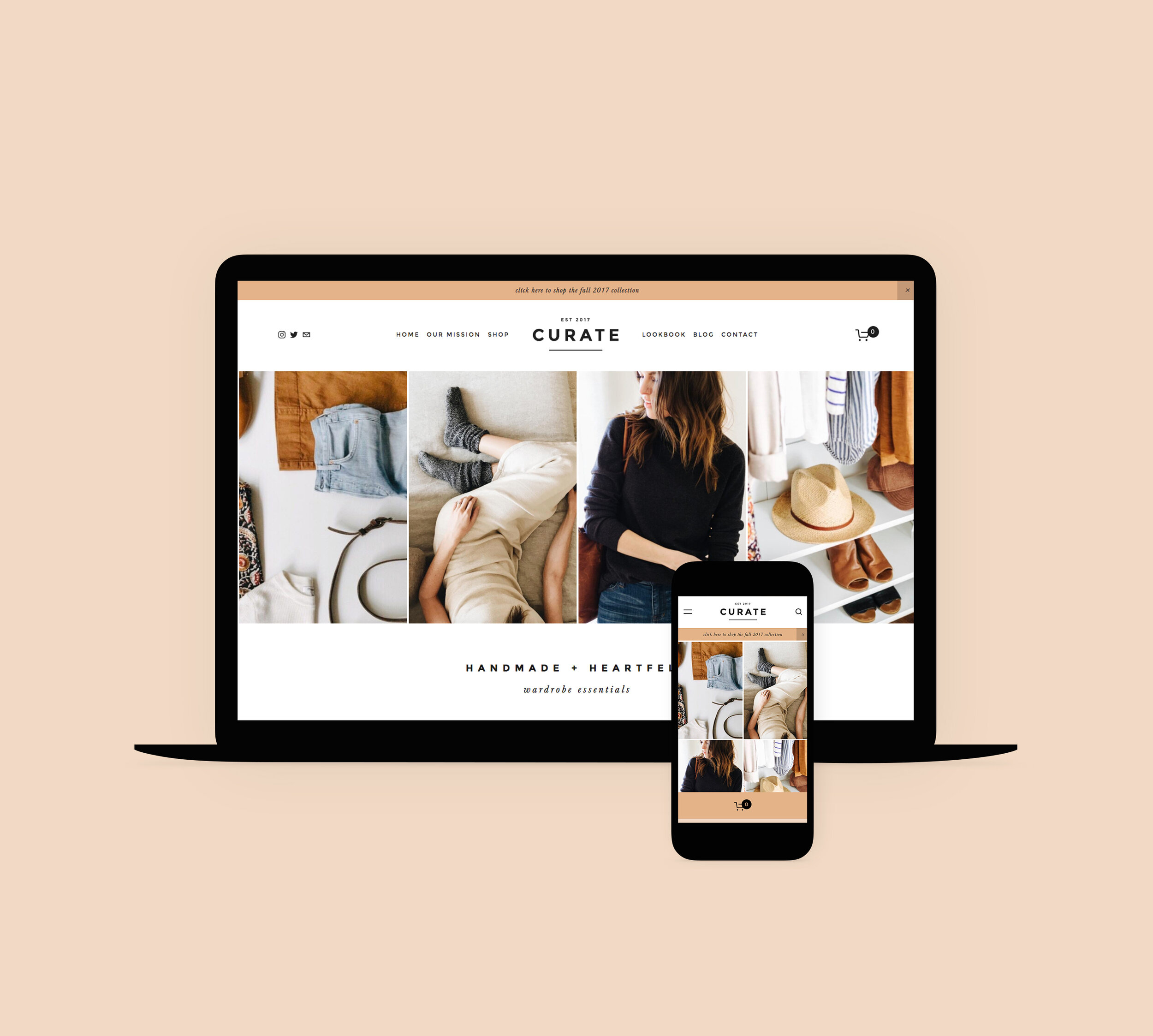 Curate - Squarespace 7.0
Curate is a sleek, hip and warm 7.0 Squarespace Template designed for bloggers and online shop owners. This design has a versatile and fun layout that features custom graphic elements, bold typography, and a dynamic display of images.
Curate Is Perfect For You If…
You're a shop owner, blogger, entrepreneur, small business or online personality.
You'd like to incorporate a blog or shop functionality for digital products or services.
Your style aesthetic is minimal, clean, simple and modern.
A Few Unique Selling Points
No Coding Required
You won't need to know code, techie lingo, or use any other professional web developer programs to install your site.
Easy To Customize
Easily modify the layout, colors, logo, images & more with Squarespace's original settings. No 'Developer Mode' needed.
Unique Layouts
Get a designer look without the custom price tag. Our designs are proprietary & handcrafted by our professionally trained designers.
Video Tutorials Included
Easily build & customize your site following our step-by-step video tutorials and comprehensive resources.
Completely Responsive
All designs are 100% responsive, so you'll look good on any and every device out there-- desktop, mobile, etc.
Helpful Support
We're here for you. Send us a message and we'll respond within 48 hours or less.
Video Walk Through
Press play and follow along as we walk you through the design, the features, pages and what this template is capable of.
Things To Note:
The photos in this design are for display purposes only and can not be used on your live website.

This template requires the use of Photoshop to edit and customize select graphics.
How It works
Our Squarespace Templates are a bit different than traditional website templates. We give you all the graphics, site settings, and video tutorials for how to create the design in your Squarespace account.
"I was able to redo my full website by myself in 10 days amidst running a business, being a stay at home mom to two kids, creating an online class and moving."
- Brittany (Reality & Retrospect)
"GREAT! Easy to follow. Great instructions & videos. I had my site up & rocking in 48 hours. Soooooo impressed! Thank you."
- Kimberly Exshaw
"GoLive took my website from looking like any other Squarespace site that used a free template to looking like a cool & intentional site with color & character."
- Leda Costa (Stolen Glimpses)
"It was super simple & very well explained. At the same time, I learned the Squarespace platform. Thank you so much!"
- Alicia Polet
"OMG Building my site was so much easier than I thought! Thanks to the step-by-step tutorials I was able to build a site I'm proud of & it didn't take forever, haha!"
- Jamar Diggs
"I love the step by step videos & the personal touches. I was always excited to tune into the next video. You make web design fun!"
- Devon White
Curate Showcase
Check out what some of our clients and customers have done
with the Curate Template.
Template Installation: $199
If you don't have the time to install the Template yourself (or you're allergic to technology), you can hire us to do it for you. When we're finished, all you'll have left to do is customize, replace your content and publish your site.